Understanding How Weather Impacts Car Crashes in Wisconsin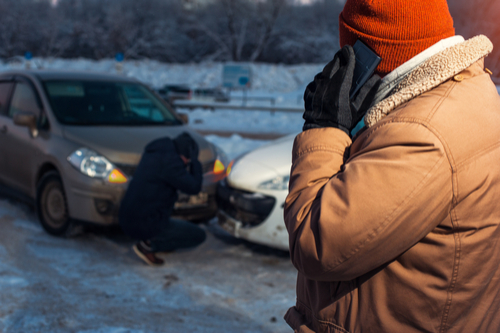 Many people try to drive safely during bad weather conditions. Unfortunately, an innocent mistake can end up causing an accident. A person can be considered negligent even if weather conditions made driving more difficult. Responsibility will often be determined by driving as a reasonable person would under similar circumstances. When driving in ice, snow, wind, or rain, a Wisconsin driver is required to meet this standard.
Determining What's Reasonable
According to the law, on a clear day when there is no backlog of traffic, it is reasonable for a person to go the speed limit when driving on an open highway. When a heavy rain, fog, or snow impairs visibility, going the speed limit may not be considered the behavior of a person who is reasonable. It's also understood that snow, ice, or wet pavement can make judging how to stop within a safe distance difficult. This means a reasonable person would significantly slow down and adjust their driving to the bad weather conditions.
Weather-Related Car Crashes
Driving conditions related to poor weather is a contributing factor in over a million car crashes in the United States each year. It results in over 790,000 injuries, 6,950 fatalities annually. More than 27 percent of total crashes involve poor weather conditions. Analysts have estimated the economic cost resulting from poor weather accidents to be more than $40 billion annually.
The Wisconsin Department of Transportation provides statistics concerning car accidents within the state. There is generally an increase in vehicle accidents involving fatalities and injuries during the colder months. The property damage resulting from accidents in the winter months almost doubles from the warmer months.
Other Contributing Factors
After an accident occurs in bad weather, there are many contributing factors that will be taken into consideration. This could be things like the condition of a car's tires, the functioning of a vehicle's windshield wipers, defogger, brakes, engine and more. The alignment of a vehicle's headlights as well as its brake lights and tail lights will also be a consideration. How well a driver knows a road, any hazards in the road such as branches as well as fallen rocks and more will be a consideration.
Pedestrians and Negligence
With bad weather, the standards of behavior for a reasonable person also apply to pedestrians. They are not permitted to just wander onto a roadway, ignore crossing at a crosswalk or traffic light because there is bad weather. It may be reasonable under the circumstance for a pedestrian to wear clothing that is easily visible as well as use a flashlight and more.
Should someone be involved in a vehicle accident during the winter months, they should contact Cannon & Dunphy. Our Wisconsin car accident lawyers are dedicated to representing injury victims in order to seek the most favorable outcome possible. We know what it takes to help our clients seek recovery and we work hard to right the wrongs victims have faced.
Ready to begin?Call us today.