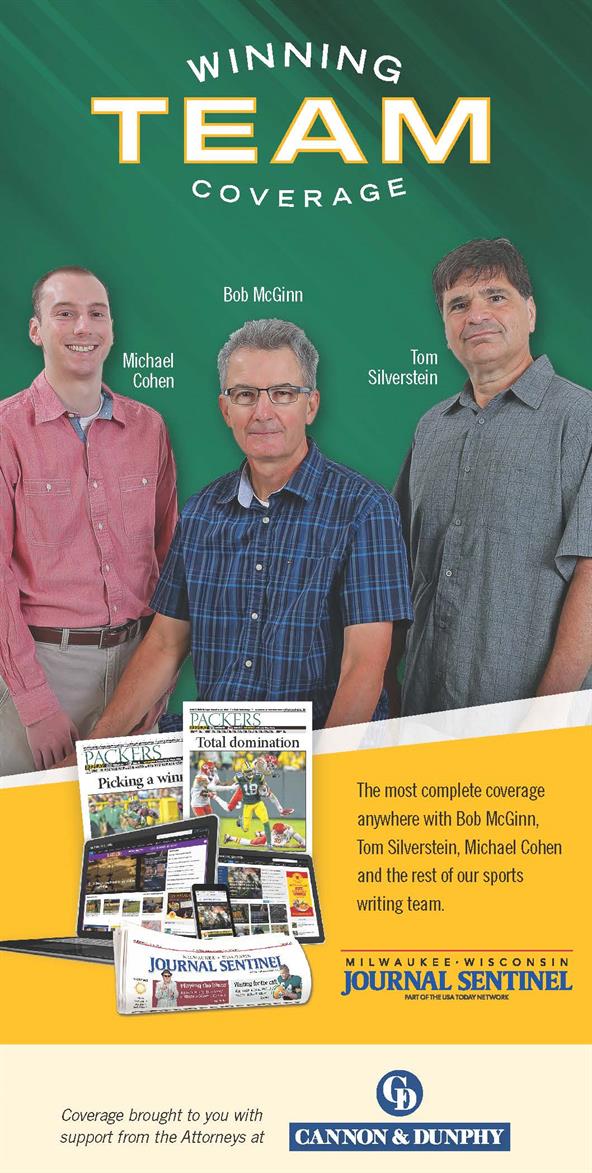 Week 19 vs Dallas
McGinn: Who will answer the call for Packers?
Green Bay – Opportunity, as they say ad nauseam at 1265 Lombardi Avenue and across the NFL, must be taken advantage of.
Packers' defense bends but doesn't break
ARLINGTON, Texas — The first person who strode across the locker room and paid tribute to cornerback LaDarius Gunter was Alonzo Highsmith, a senior personnel executive for the Green Bay Packers. He stuck out his arm for a half hug and said the only words that mattered in the aftermath of an instant classic.
Practice makes perfect for Cook sideline dance
ARLINGTON, Texas – In practice last week, Jared Cook's teammates got a sneak preview inside the Don Hutson Center of what would be the big Green Bay Packers tight end's most important play of his eight-year career.
---
Week 18 vs New York
January 8, 2017
After sluggish start, Rodgers dazzles again
GREEN BAY – The eight seconds that kept the Green Bay Packers afloat underscored everything this offense did well during a six-game winning streak that captured a division title en route to saving the season.
Clutch catches, Hail Mary hookup ignite Packers
GREEN BAY – Maybe the Green Bay Packers don't have a Bryant (Antonio or Dez) and maybe they won't have a full Nelson (Jordy) the rest of the season, but they do have something a lot of other teams in the NFL playoffs wish they had.
McGinn: Packers' defense can step up in class
GREEN BAY – Nothing is absolute when it comes to playoff football. With an oval-shaped ball, 22 players on the field and intensity ratcheted up, the unexpected often becomes the expected.
---
Week 17 vs Detroit
January 1, 2017
Subpar fourth-down defense could cost Packers
GREEN BAY — Fifty seconds before Jeff Janis caught the Hail Mary that launched his cult stardom into orbit, the Green Bay Packers wide receiver caught another to keep the Super Bowl dream afloat.
McGinn: 'Electric' finale pits Packers, Lions
GREEN BAY – No division in the National Football League was hammered harder by injuries this season than the NFC North
McGinn: Packers roll to NFC North championship
DETROIT – Japan's sneak attack on Pearl Harbor in 1941 was one week from happening the last time the Green Bay Packers closed a regular season with as many as six straight victories.
---
Week 16 vs Minnesota
December 24, 2016
D'Amato: McCarthy's steady hand a winner
GREEN BAY – A few weeks ago, when the Green Bay Packers couldn't play dead and Mike McCarthy was getting shredded by couch-potato fans and talking heads, the coach gave himself a rare public pat on the back when he said, "Let's state the facts: I'm a highly successful NFL coach."
Rodgers, Packers' offense clicking again
GREEN BAY – Mike Zimmer gave Aaron Rodgers everything he had Sunday. There were linebacker blitzes, safety blitzes, green-dog blitzes, double-A gap blitzes, zero blitzes, zone blitzes, just about any kind of blitz you could name. He threw man and zone coverage, single safety and Cover 2 and some others maybe only the crafty Minnesota Vikings head coach can name.
McGinn: Pass protector Bakhtiari a bargain
GREEN BAY – Anyone even thinking about taking David Bakhtiari for granted would be wise to remember exactly one year ago when the Green Bay Packers weren't as fortunate at left tackle as they are today.
---
Week 15 vs Chicago
December 18, 2016
Teammates describe Nelson's game-saving catch
CHICAGO – There were elements of symmetry between Jordy Nelson's 60-yard reception against the Chicago Bears on Sunday and Richard Rodgers' 61-yard Hail Mary grab against the Detroit Lions last year.
Montgomery, Michael get it done on ground
CHICAGO – As far as trivia questions go, this one might be a doozy for Green Bay Packers fans near and far: Ten players have at least one genuine rushing attempt in the first 14 games of the 2016 season. Can you name them?
Packers boost QB depth with Callahan
CHICAGO — With starting quarterback Aaron Rodgers battling calf and hamstring injuries, the Green Bay Packers are promoting rookie quarterback Joe Callahan to the 53-man roster ahead of Sunday's game against the Chicago Bears at Soldier Field, a source said.
---
Week 14 vs Seattle
December 11, 2016
McGinn: Packers must match Seahawks' spirit
GREEN BAY – Whatever the snowfall total is Sunday won't help the Green Bay Packers any more than the temperature of 6 below zero helped the Minnesota Vikings in the NFC wild-card playoffs 11 months ago.
Snow factors into Packers' footwear choice
GREEN BAY — For those who applied a keen eye to the snowball fight between the Green Bay Packers and Houston Texans last weekend, you may have noticed a moment of incidental humor late in the television broadcast. It happened as CBS aired replays of the touchdown pass from quarterback Aaron Rodgers to wide receiver Jordy Nelson, and you had to look closely to see it.
Victory boosts morale, playoff race tightens
GREEN BAY – For better or worse, Sunday's late afternoon kickoff at Lambeau Field afforded the Green Bay Packers an opportunity to be scoreboard watchers. And as the regular season winds down, they certainly didn't like what they saw.
---
Week 13 vs Houston
December 4, 2016
McGinn: Packers find new way to roll in snow
GREEN BAY – Steadily falling snow and treacherous footing once meant base personnel, a muscle back steamrolling through the opposition and another dominating victory for the Green Bay Packers.
Packers' running game continues to evolve
GREEN BAY – Regardless of when and where the Green Bay Packers' season ultimately is laid to rest, whether it's during the season finale at Ford Field in Detroit or somewhere far grander, the 22nd of October endures as an influential moment.
McGinn: Parting ways with Hayward was right move
GREEN BAY – The case of cornerback Casey Hayward underscores anew the uncertainty that accompanies the major personnel decisions general managers must make all the time in the National Football League.
---
Week 12 vs Philadelphia
November 28, 2016
McGinn: Packers finally put it together
PHILADELPHIA – At long last, the Green Bay Packers have found a way to turn potential into performance.
McGinn: Reid's fate could await McCarthy
GREEN BAY – Andy Reid gave it his all for 14 seasons in Philadelphia, took a pink slip without recrimination from management and within five days was resurrecting his coaching career in Kansas City.
Three-and-outs setting back Packers' attack
GREEN BAY – In the first quarter of the Green Bay Packers' loss to Washington, wide receiver Davante Adams failed to secure a third-down pass from quarterback Aaron Rodgers, who threw to his left with Adams isolated against cornerback Bashaud Breeland.
---
Week 11 vs Washington
November 20, 2016
McGinn: McCarthy must turn tide on turnovers
Washington – Talk of turnover differential oftentimes creeps into Mike McCarthy's opening remarks after games.
Packers' rookies falling short on big plays
Green Bay – Of the Green Bay Packers' 53-man roster, a dozen of their players are rookies. Of those dozen, try naming a single play any of them have made that has been the difference in the Packers winning a game.
McGinn: Packers' season careens out of control
LANDOVER, Md. – No one wants to be labeled as a bad football team. If the Green Bay Packers aren't one now they're getting extremely close to it.
---
Week 10 vs Tennessee
November 13, 2016
McGinn: Packers' midseason grades
PASSING OFFENSE: C-minus Perhaps the best way to judge a passing attack is pass average (yards divided by attempts and sacks). The Packers crashed from No. 1 in 2014 to No. 31 last year.
McGinn: McCarthy, Rodgers must deliver
NASHVILLE, Tenn. – When your stay in Green Bay exceeds a decade, all that really matters is winning the Super Bowl.
Insider: Thumbs up to Davante Adams
THE BIG PICTURE The Packers are a team in crisis. They've lost three straight and four of their last five. Never mind that they're still just a game out of first place in the NFC North. They just lost to a 4-5 team whose only victory this season over a team with a winning record was Week 2 at Detroit.
---
Week 9 vs Indianapolis
November 6, 2016
Matthews out vs. Colts; Cobb, Rollins in
GREEN BAY – The Green Bay Packers will have both wide receiver Randall Cobb and cornerback Quinten Rollins Sunday against the Indianapolis Colts, but linebacker Clay Matthews will miss a second straight game.
McGinn: Packers must be held to high standard
GREEN BAY – At the beginning of every training camp coach Mike McCarthy doesn't mince words in setting forth the objective for the Green Bay Packers.
Quick take: Gore, Colts run past Packers
GREEN BAY – Despite a horrendous performance through three quarters, the Green Bay Packers had a chance when it mattered most Sunday.
---
Week 8 vs Atlanta
October 30, 2016
Packers fall to Falcons 33-32 in shootout
ATLANTA – On a day the Green Bay Packers' offense overcame injuries to show a spark, it wasn't enough to outscore the NFL's most explosive offense.
Snaps in short supply on Packers' D-line
GREEN BAY — The funny thing about a permanent association between Dom Capers and the 3-4 defense is that the modern version of football is pushing him away from the scheme synonymous with his name, a scheme he employs as defensive coordinator of the Green Bay Packers.
McGinn: 'Boring' tie embodies football's essence
Green Bay – Sometimes fans, talking heads and fellow sportswriters view football games so much differently than me.
---
Week 7 vs Chicago
October 20, 2016
McGinn: Offense finds footing despite losing Lacy
GREEN BAY – In the end, life without running back Eddie Lacy worked out just fine for the Green Bay Packers on Thursday night at Lambeau Field.
McGinn: No dropping the ball on Davis deal
Green Bay — At least we now know how desperate the Green Bay Packers believe themselves to be at running back.
Eddie Lacy needs surgery, will go on IR
GREEN BAY – Eddie Lacy needs surgery on his left ankle, sources said Thursday, and the Green Bay Packers running back was placed on injured reserve, giving him a minimum of eight weeks to recover.
---
Week 6 vs Dallas
October 16, 2016
'Hit Man' Thomas making impact on Packers
GREEN BAY – The most recent endorsement of linebacker Joe Thomas took place Monday afternoon, some 17 hours after the Green Bay Packers held quarterback Eli Manning to fewer than 200 yards through the air and a sub-80 passer rating. Behind the lectern stood defensive coordinator Dom Capers, questioned about the gladiatorial gash on Blake Martinez's nose.
McGinn: Rodgers falls from ranks of greats
GREEN BAY – It starts in August, with Rich Gannon serving as analyst for the exhibition games. Now it continues with the network broadcasters assigned to the games that count.
Quick take: Dallas rolls at Lambeau
GREEN BAY – The game could be measured in boos and jeers. They began quietly, with a few hundred people, as the 17th pass by quarterback Aaron Rodgers fell incomplete, and his total yardage remained steady at 74 late in the first half.
---
Week 5 vs New York
October 9, 2016
McGinn: No NFC East Pushovers for Packers
Green Bay — Over the next eight weeks the Green Bay Packers will play only one game against their brethren from the NFC North and four games against opponents from the NFC East.
Daunting Task for Giants' McAdoo vs. Packers
GREEN BAY – When Ben McAdoo brings in his New York Giants on Sunday evening, it will be the 63rd time in the past two decades the Green Bay Packers have faced a head coach who once was one of their own.
McGinn: Packers Turn Tables on Manning, Giants
GREEN BAY – Eli Manning, a certified Packers killer, never faced a Green Bay defense like the one he did Sunday night at Lambeau Field.
---
Week 4 – Bye Week
Packers' special teams avoiding bad days
GREEN BAY – If there's one thing every good special teams unit enjoys, it's a little bit of luck.
McGinn: Building a hypothetical team
GREEN BAY – In the past I've written columns in which a make-believe team was built from players, coaches and front-office personnel who once worked for the Green Bay Packers.
---
Week 3 vs Detroit
September 25, 2016
Packers start fast, hold on to beat Lions
GREEN BAY – By the time the Green Bay Packers trotted to their locker room for halftime of Sunday's home opener, it was feeling a lot like 2014.
Lions-Packers: 5 Things to Watch, predictions
TO BLITZ OR NOT TO BLITZ: Teryl Austin will be coordinating his fifth game against the Packers; his record is 1-3. Here, in chronological order, are Aaron Rodgers' passer ratings and the Lions' blitz rates on passes in the four games: 88.8-12.9%; 139.6-23.1%; 83.6-36.8%; 96.2-26.2%.
McGinn: Packers possess Super Bowl ability
The Green Bay Packers won the 45th Super Bowl over the Pittsburgh Steelers in Dallas. Now those same two teams will play a Super Bowl rematch on Feb. 5 about 250 miles to the southeast in Houston.
---
Week 2 vs Minnesota
September 18, 2016
Vikings hope to make noise with new palace
MINNEAPOLIS – It's enormous, not so awash in purple that even Prince might object and features every amenity you could possibly want in a 1.75-million-square-foot tribute to the Minnesota Vikings.
Shields' absence means long night for Randall
MINNEAPOLIS – When the visiting locker room opened, cornerback Damarious Randall wore green shorts, no shirt and had fixed his gaze on the iPhone plucked from his locker. A reporter asked for an interview, and Randall asked for a bit more time.
McGinn: Mistakes, poor QB play spell defeat
MINNEAPOLIS – Mike McCarthy's third-quarter decision to pass up a short field-goal attempt. Aaron Rodgers' two turnovers in the last seven minutes.
---
Week 1 vs Jacksonville
September 11, 2016
Packers 2016 forecast: How we're picking it
Our Packers coverage team members make their predictions on how Green Bay will fare during the 2016 NFL season and which teams will reach the playoffs and advance to the Super Bowl.
NFC North outlook: What scouts say
Four executives in personnel for NFL teams sized up the NFC North in interviews his week with the Journal Sentinel's Bob McGinn. Here are excerpts:
McGinn: Experienced Packers sweat out victory
JACKSONVILLE, Fla. – This is what the Green Bay Packers have been doing for 25 years. They know how to operate as a road favorite against a mistake-prone opponent and get the job done.