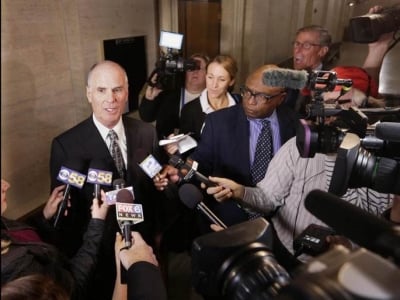 Patrick O. Dunphy of Cannon & Dunphy S.C. won a jury verdict of $6 million in a case against Badger Guns Inc., maintaining the firm's reputation as one of the most well respected and successful personal injury firms in Wisconsin.
Since 1985, our experienced team of Wisconsin personal injury attorneys has fought to protect the rights of injury victims in even the most complex cases. We are not afraid to take our cases to court in order to pursue the maximum amount of compensation possible for the people who need it most.
About the Case Against Badger Guns in Milwaukee, Wisconsin
In a landmark jury verdict with national implications, Badger Guns, federally licensed firearms dealer, was found liable to two Milwaukee police officers for $6 million in damages. Patrick O. Dunphy represented the police officers. This case is only the second of its kind to go to verdict under the Protection of Lawful Commerce in Arms Act, a 2005 immunity bill to protect gun dealers and manufacturers from liability for guns used in crimes. This case is the first time a gun dealer has been held liable under the immunity law.
Badger Guns, located in West Milwaukee Wisconsin was found liable for negligently selling the firearm used to shoot the police officers to a straw buyer. A straw buyer is someone who is buying a gun for someone else, usually someone who is prohibited by law from buying the gun himself. The straw buyer bought the gun for an 18-year-old who later used it to shoot the officers. A total of seven shots were fired and both officers suffered life threatening injuries.​
The Verdict: Badger Guns Liable for $6 Million in Damages
The jury agreed that the owners of the store were negligent in their business practices and were negligent in this sale all in violation of federal laws and regulations. In addition to the $4.975 in compensatory damages, the jury awarded $730,000 in punitive damages. It is the hope of Cannon & Dunphy that the verdict will convince all firearms dealers that it is necessary for them to know the law, follow the law, and deny gun sales to anyone who they suspect is an illegal buyer, including suspected straw buyers.
Read more about the Badger Guns lawsuit here:
Milwaukee Wisconsin Journal Sentinel
The New York Times
For more pictures from the case, click here.
Two Officers Receive $1 Million Settlement
According to Journal Sentinel, on Friday, May 20, two more wounded Milwaukee law enforcement officers, Officer Jose Lopez and Officer Alejandro Arce, settled their lawsuit against Badger Guns just days before the second jury selection was to commence. Both were shot by Victor Veloz, who was 15 years old at the time, while they were responding to shots fired during an investigation on the south side of the city. Both officers retired on disability after suffering serious injuries.