Cannon and Dunphy Featured in Super Lawyers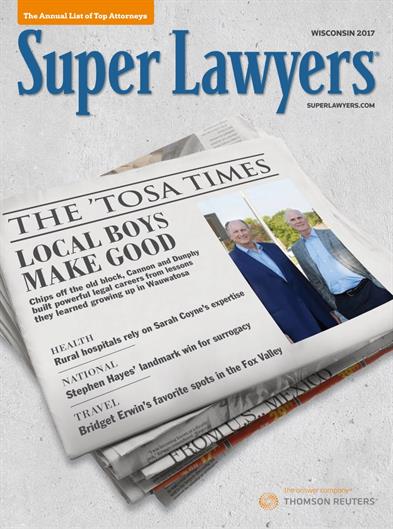 Attorneys William M. Cannon and Patrick O. Dunphy have spent their professional careers working together to fight for the rights of injured victims throughout Wisconsin. However, their relationship transcends professional borders – not surprising, given how long they've known each other.
The two grew up down the street from each other in Wauwatosa, WI in a small, tight-knit Irish neighborhood.
"When the streetlights came on, we needed to be inside or our parents would whistle and we'd run like crazy," Cannon said in an interview with Super Lawyers. "We'd play football, kick the can, all kinds of sports. In the winter we'd ice skate and throw snowballs at the buses."
Dunphy and Cannon, who are almost three years apart in age, didn't become close friends until later in life. The two constantly crossed paths growing up though, with Dunphy over at his now-partner's house all the time visiting his younger brother, and both attending Saint Jude the Apostle Grade School and Marquette University High School.
The two professionally came together in 1985 when, after hearing about Cannon's idea to open up his own firm, Dunphy approached him in the gym and said,
"Whatever you are working on, count me in."
The rest is history, and the two have one of the most successful law firms in Wisconsin, recovering more $10 million awards than any other firm in the state's history. You can read more about their friendship and partnership in the Super Lawyer feature here.
At Cannon & Dunphy S.C., our Milwaukee injury lawyers have spent the past 30 years fighting for the rights of injured victims throughout Wisconsin. Through our tireless efforts, we have successfully recovered more than $1 billion in judgements and settlements for our clients, and we remain committed to fighting for their rights every single day. If you were seriously injured by someone else's negligent or reckless actions, give us a call at (855) 627-2147 or schedule a free consultation by filling out our online form.